This site is dedicated to my personel guitars,amplifiers and personel gear I use for Live performance and recording,Id like to share my personel secrets.
Axe number 1 is a 1968 Gibson ES 345 Stereo,totally original.The pickups sound great,the guitar has a 6 position varitone switch and a 3 position pickup selector.If you dig the ES 335,you owe it to yourself to play an ES 345.Gibson still makes a re-issue model,because of its popularity.

Axe number 2 is a G/L S-500 Stratocaster made in USA.It has a mini-toggle switch for many different pickup sounds.G/L for those who dont know was Leo Fender's Pride and Joy company.All the guitars are handmade.The G/L Stratocaster has some of the best sounding single coil pickups I have ever heard.The tremolo is very smooth and the guitar has locking tuning machines.

Axe number 3 is a Fender Powerhouse Stratocaster with a maple neck.It came with an active circuit similar to the Eric Clapton model,I removed the active pick-ups.Recently I installed Lindy Fralin Blues pickups for this guitar.I like these pick-ups in my guitar.The stock pickups are okay,however the Lindy Fralin pick-ups seem to be the way to go.I also installed a Fender original vintage tremolo,that works fine,and Fender locking tuners.The Fralins are hand wound like the original fender pick-ups from the 50s,and feature Alinco magnets.

Axe number 4 is a Charvel American San Dimas model.It came with Kent Armstrong pickups.I recently upgraded with Van Zandt Blues specials,these pick ups sound really smooth.I would recommend them highly,they have a bell like tone,with great sustain and power.Recently I removed the bridge pickup which was a humbucker and replaced it with a new pick guard and another Van Zandt single coil.This guitar also has a Wilkinson tremolo system,also added a set of Fender locking tuners,,the guitar sounds great now.

Axe number 5 is a 335 dot by Epiphone,recently I installed a Tom Holmes (neck) pickup and a Lindy Fralin for the Bridge,and Sperzel locking tuners.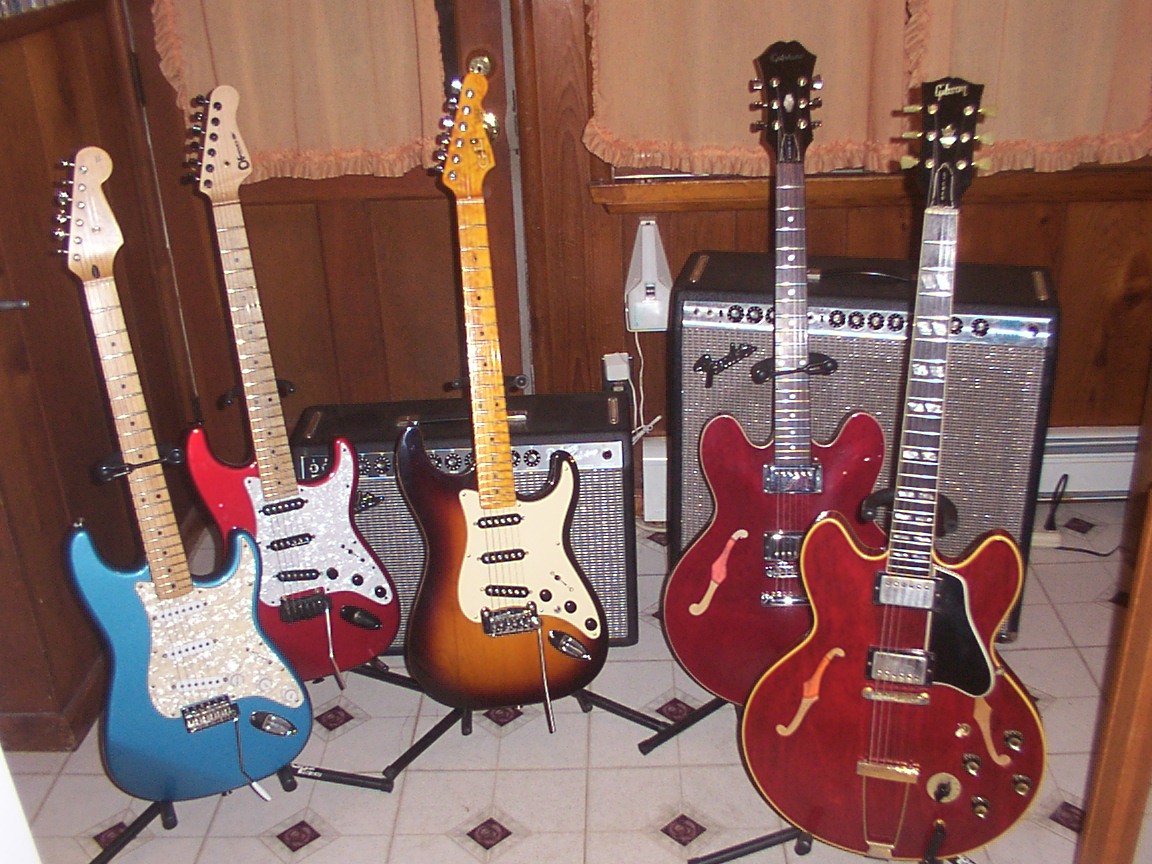 Number 1 Amplifier is a Fender 1976 Super Reverb.

Amplifier number 2 is a Fender Deluxe reverb.
GUITAR SECRETS
The deeper you get into it,the more sacrifices you have to make.I dedicate my whole life to this art.You have to forget what people say obout you sometimes...when your suppose to die and when your suppose to be living.You have to go on and be crazy.Craziness is like heaven.Once you reach that point where you dont care obout what people are sayin,your goin towards heaven...Your own heaven. JIMI HENDRIX